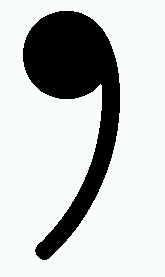 Welcome to Lent. I haven't ever celebrated (celebrated? observed?) Lent in the past - I'm not Catholic and haven't felt that I really had any pressing sins or shortcomings that I needed to give up. This year will be different; I finally have something to give up. I was discussing the matter with Petra (who will be giving up Internet addictions this year) and she guided me toward something useful to give up.



Commas

.



I will refrain from using commas (or even relative clauses) for the next forty days. It hasn't even been a full day yet and I'm already going out of my mind. I never realized how much I used commas before. Try it - you'll be surprised. You'd also be surprised at how many ways there are to get around it. I've never used so many semicolons and dashes in my life.

It's going to be a long forty days. A

really

long forty days. I may perish from the insanity of it all.